Follow the NLF on Instagram, Twitter, YouTube and Facebook.
Ed. note: This story originally appeared on MyLacrosseTournaments.com. 
The Lax Fest is back!
For the 13th straight year, the Lax Fest was the crown jewel of the summer recruiting event slate. More than 80 college coaches, led by the likes of Duke, Lehigh, Rutgers, Brown, Dartmouth, Stony Brook, Hofstra, Marist and many, many more, made their way to Hofstra to take in some of the best talent in the country in the 2022 and 2023 classes. CLICK HERE for the full list of college coaches from the event. 
This is the first of two installments of standouts from the weekend. This one focuses on some of the top '22s at the event, with another story on the top '23s coming soon.
Lax Fest 2022 Standouts
Andrew Albert '22, goalie, Weston (Conn.) / CT Wolves 
Albert had a spring to remember, leading Weston to a state championship with a ludicrous 20-save performance in the overtime win. It's not hard to see why he only yielded four goals in that game, too, with the calm and composure that he brought to the Wolves cage. He made every save that he should and took a couple of surefire goals off the scoreboard with his lateral movement, ball tracking and ability to match sticks.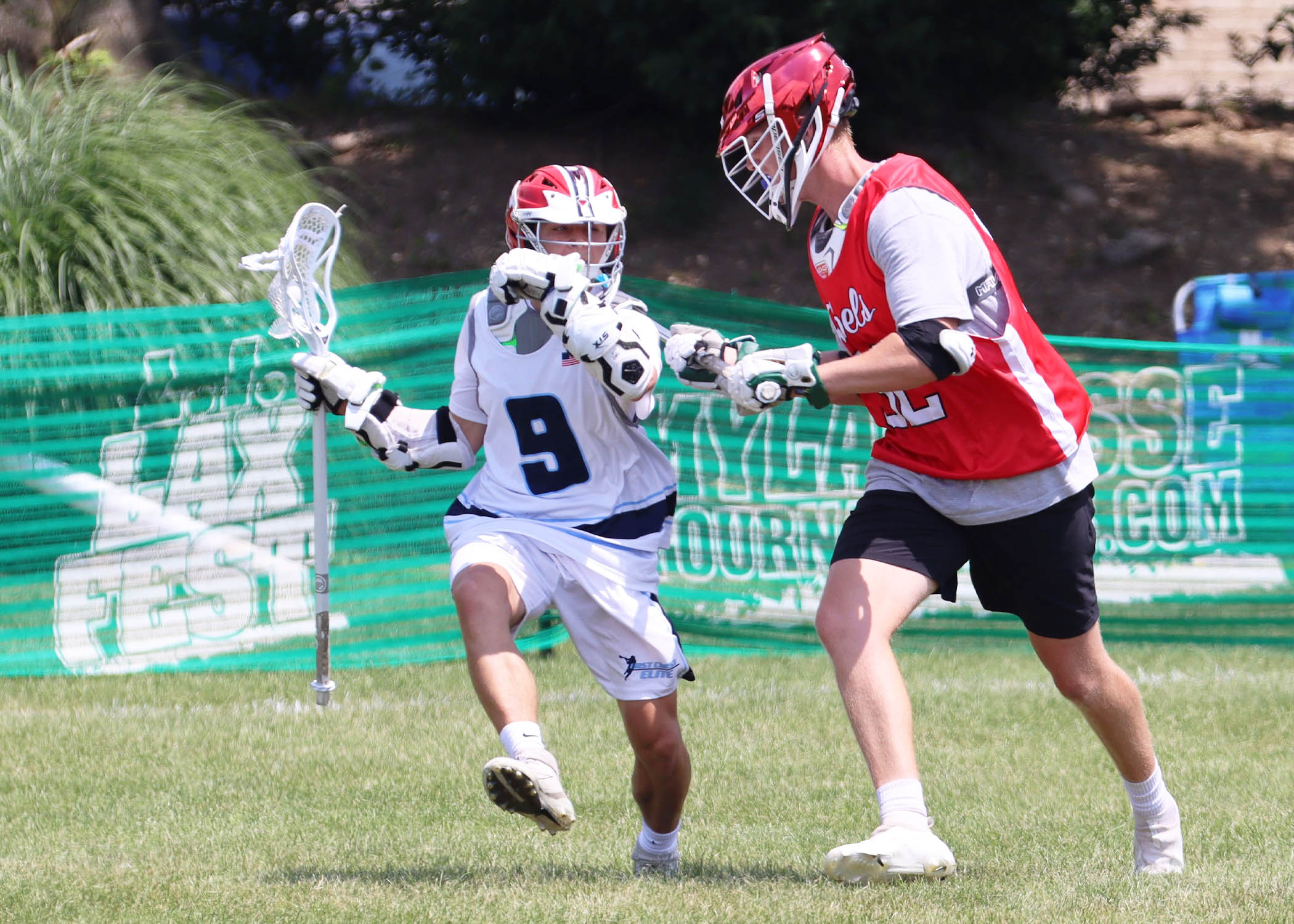 Ryan Bauco '22, attack, East Islip (N.Y.) / East Coast Elite 
No stranger to standout performances at MLT events, Bauco was a driving force behind East Coast Elite's run to the semifinals. A lefty jitterbug type attackman, Bauco's first step and change-of-direction ability often left defenders cross-checking air as he blew by them. He's most at home dodging from X or the low wing, and while he's far from the biggest attackman out there, he wasn't afraid to get his nose dirty and go to the tough areas to score goals. One of his best plays came when he got skinny, flipped his hips and ripped home a low-to-high screamer.
Ryan Challice '22, attack, Pleasantville (N.Y.) / Team 91 Tristate 
Challice has been a go-to guy for 91 Tristate for seemingly forever, but the lefty finds a way to score goals all the freaking time. He constantly bagged up goals all weekend, whether it was in transition, on the man-up or in settled 6v6 situations. He's gotten better at creating his own shot and is still really good off-ball.
Connor Collett '22, defense, Chaminade (N.Y.) / LI Express Demeo
Collett got thrown into the deep end and told to figure out how to swim this spring when he got assigned to covering NLF No. 1 '21 Andrew McAdorey (Team 91 Long Island / Duke) in the Chaminade-St. Anthony's games. That's a really tough assignment, but it then makes everyone else look significantly easier to cover. Collett was great for the Express Demeo team, taking on every opponent's No. 1 attackman and yielding very little in the process. He showed a very good handle off the carpet and communicated well with his defensive mates to make sure that everyone was where they needed to be.
Richie DeChiaro '22, midfield/attack, Center Moriches (N.Y.) / United LI
DeChiaro was lights-out all weekend long for United, which made a run to the semifinals of the Red division. Fresh off of posting a 44-goal, 14-assist campaign for Center Moriches, DeChiaro showed shiftiness and was routinely able to create space for himself and get to his spot. He's not overly big, but he was willing to work to get to the dirty areas to rack up the goals, and he flirted with double-digit tallies on the weekend. His best may have been on a pretty passing play that he finished off by going hard to the middle and ripping home a shot while falling down.
Noah Filippelli '22, faceoff midfield, Chaminade (N.Y.) / LI Express Demeo
Turns out that having the ball, like, all of the time is conducive to winning lacrosse games. Express Demeo won its division, thanks in no small part to Filippelli never allowing opponents to get on a run by winning around 90 percent of his draws all weekend long. The Chaminade junior was lights-out all weekend long and was nearly automatic on the clamp. He also did a great job of popping the ball out to his wings and made smart decisions with the ball after the win.
KJ Graham '22, goalie, Babylon (N.Y.) / Rebels 
Graham was excellent in backstopping the Rebels to a Red division championship. An athletic keeper with a penchant for making highlight-reel saves, he denied a couple of 1v1 attempts on the doorstep in the title game.  Graham excelled in the clearing game, too.
🔝 bunk.

Colin Hansen (Smithtown West) with the 🚀 to help the Rebels win the Lax Fest varsity Red division championship! pic.twitter.com/0dYaO1CvCS

— My Lax Tournaments (@LaxTournaments) June 23, 2021
Colin Hansen '22, attack, Smithtown West (N.Y.) / Rebels 
A thick, big-bodied attackman who sniped 21 goals this spring despite missing some time with injuries, Hansen gave defenses fits by using his size to create space, and he didn't need much time and room to get his shot off. He went off in the championship game, burying a couple of goals, and you have to like how he can operate as a crease man but also create his own shot from above the cage.
United LI '22 Curren Johnsen has never met a shot that he won't try.

Beautiful BTB from the @LehighLacrosse commit at the @LaxTournaments Lax Fest! pic.twitter.com/G5q6bseoyi

— Matt Chandik (@MChandik26) June 19, 2021
Curren Johnsen '22, attack, Bellport (N.Y.) / United LI / Lehigh
Johnsen is a known commodity with a target on his back in every tournament that United plays, but the future Mountain Hawk always finds a way to produce. He was dynamic once again, scoring a bunch of goals and also getting his teammates involved. He's one of those attackman that will try any shot from just about anywhere on the field, so you never know what's coming your way if you're the defense. The BTB in the video above is one of those examples, and his stickwork is terrific and keeps defenses guessing.
Julian Kammerman '22, attack, Trumbull (Conn.) / CT Wolves / Roanoke
As the orchestrator of the offense, Kammerman was instrumental in helping the Wolves reach the championship game. The feisty lefty's engine is always running, and as a result, he showed a knack for making a bunch of little plays. Poised with the ball in his stick, Kammerman gets everyone involved in the offensive flow and raises the play of those around him. He had a gorgeous low-to-sky rip from the wing in the title game that elicited some oohs and aahs from those watching.
Konrad Maciejny '22, midfield, West Islip (N.Y.) / East Coast Elite 
Maciejny plays fullback on the West Islip football team and plays like one on the lacrosse field. There's not a whole lot of flash to his game, but he's aware of what his game is and doesn't stray from it. Maciejny is here to get downhill and bowl people over like he's picking off a middle linebacker on an iso run. Brute strength and power are his calling cards, and rare are the short-stick midfielders who can slow him down when he gets a head of steam. Maciejny was a threat as an alley dodger, where he can use his rocket of a shot and pick out corners.
Douglas MacKenzie '22, midfield, Howell (N.J.) / Team 91 NJ South Fury
This kid can absolutely sling it, man. MacKenzie has impressed with his shooting ability before, but he's continued to refine his shooting stroke. Let him get down the alley at your own peril and if you do, expect your goalie to be turning and raking. He packs a ton of power into his shot and has worked to more effectively change planes on his shot. The ball simply explodes out of his stick with a ton of pop.
Patrick McGovern '22, attack, St. Dominic (N.Y.) / Recon
McGovern popped 17 goals and 25 points for St. Dom's this spring, and he parlayed that into a strong showing at the Lax Fest. He used his size well to eat up checks while getting to his spot up the hashes. McGovern was sneakily good at getting his hands free in tight and found different ways to navigate to places where he could score.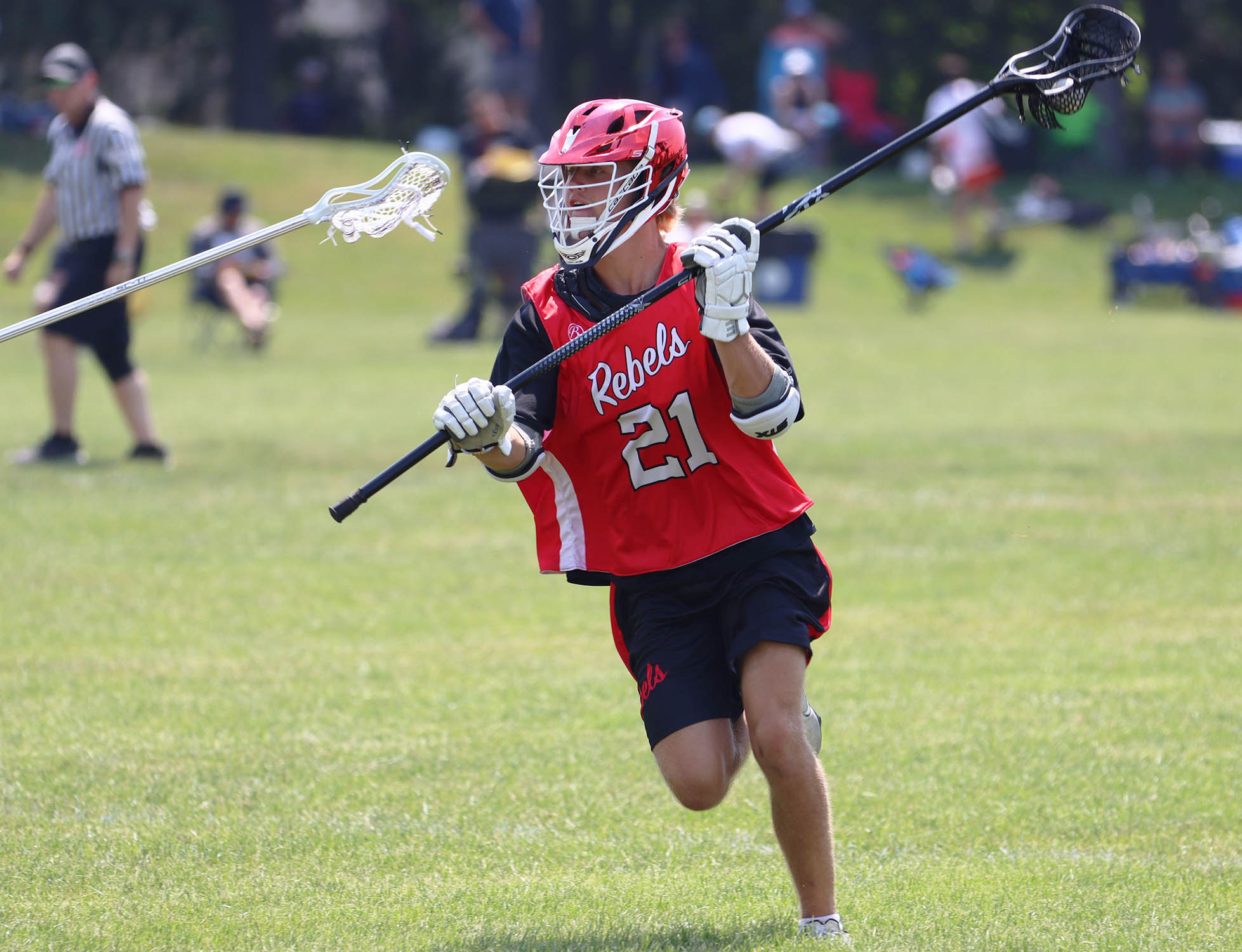 Tristan McMahon '22, LSM, Commack (N.Y.) / Rebels 
McMahon made his presence felt between the lines all weekend long for the champion Rebels. He's very much in the mold of a modern-day LSM as he took the ball away a ton defensively, vacuumed up ground balls and pushed the pace for a handful of points throughout the weekend. McMahon was terrific on faceoff wings, picking his way through traffic to corral ground balls.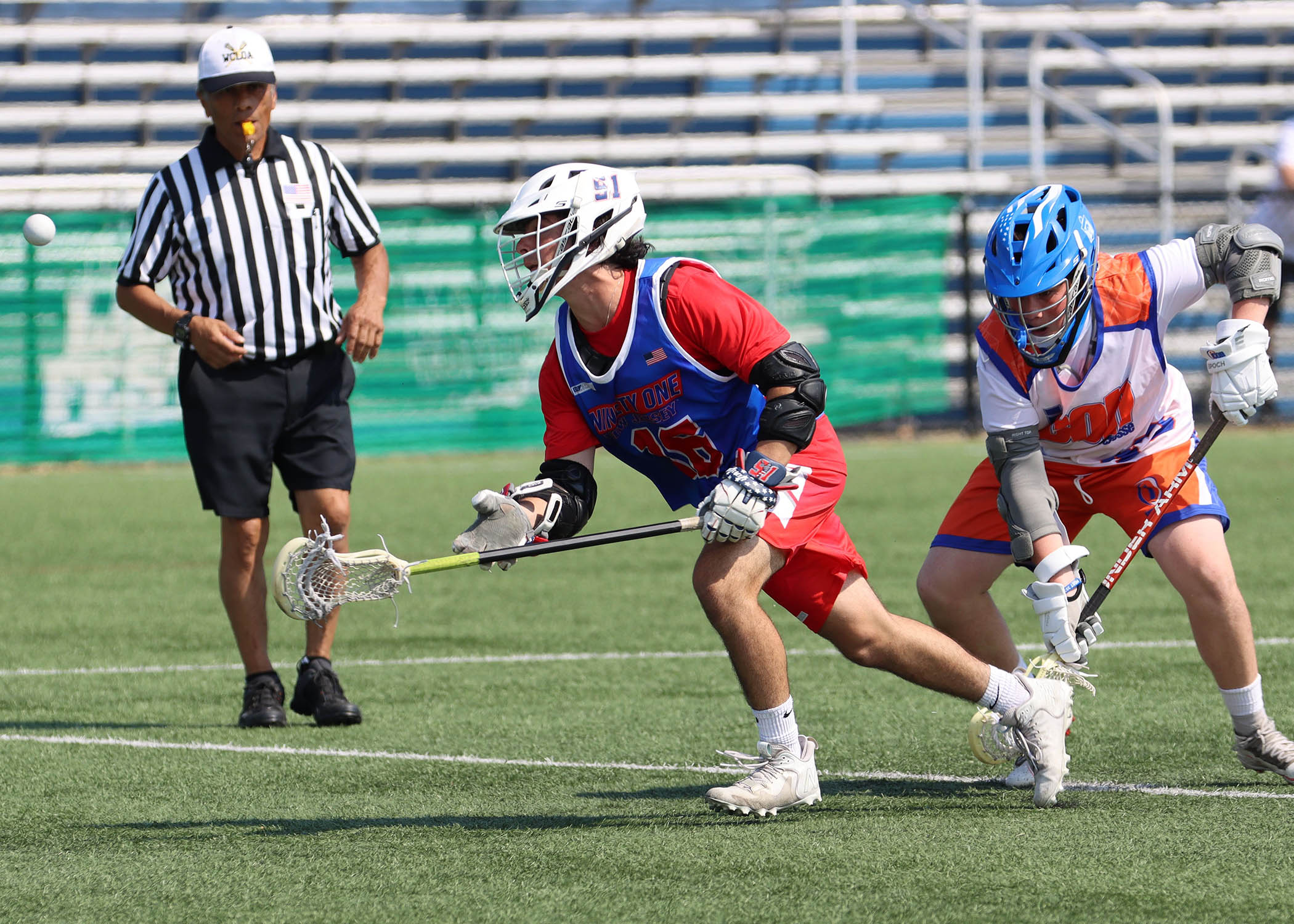 Steven Pepe '22, faceoff midfield, East Brunswick (N.J.) / Team 91 NJ South Fury
Pepe has been a consistent force for Team 91 NJ for years, but he's continued to develop his game and is really blossoming into a very good potential late pickup for a school. The hand speed's always been there, and now his footwork is coming along with it. He stayed low with good leverage and popped the ball out to himself on a number of occasions. His decision-making was good throughout the tournament as he showed that he could push the pace, pull the ball out and when to slow break.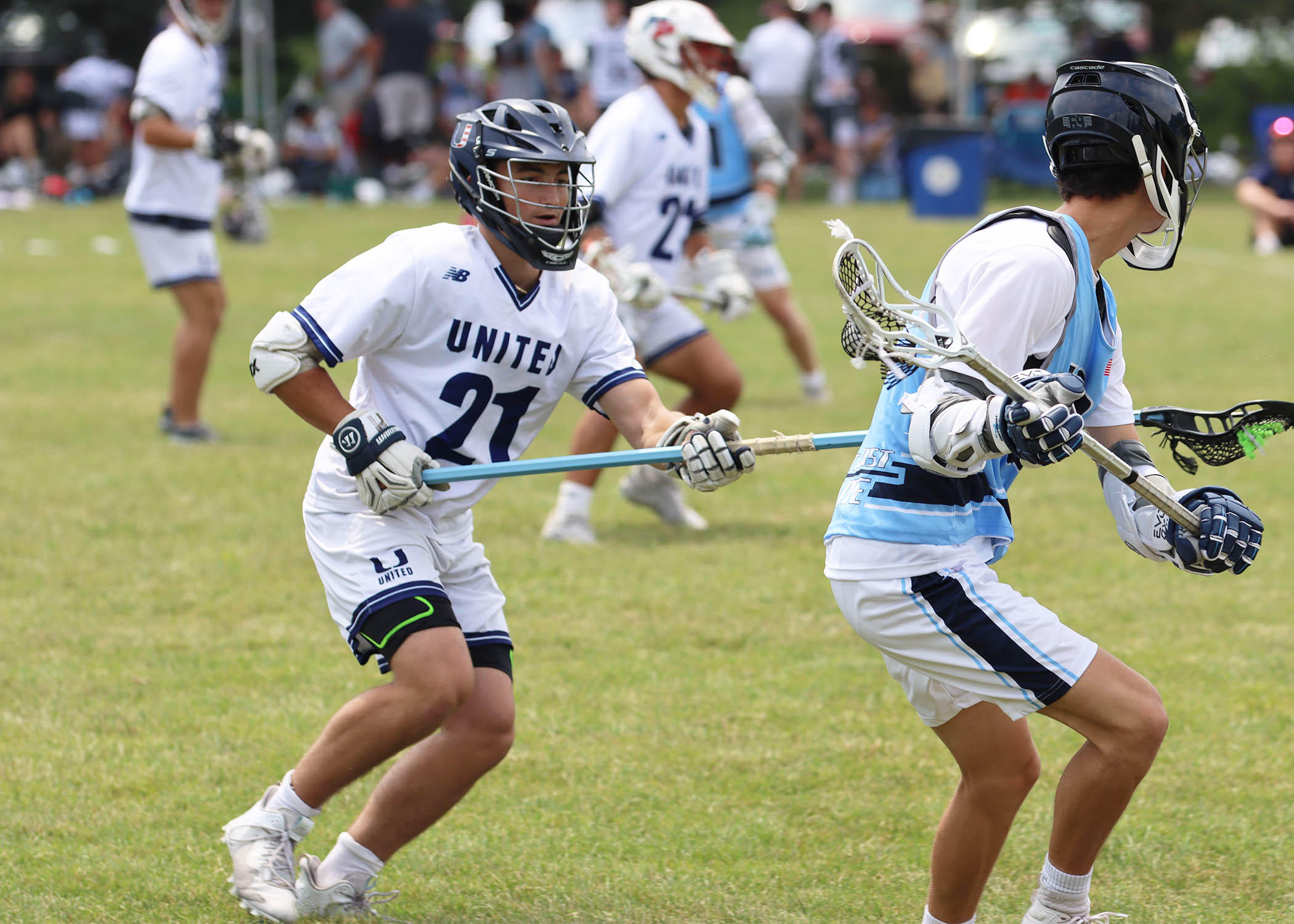 Michael Piraino '22, defense, Half Hollow Hills East (N.Y.) / United LI
Piraino caught the eye of more than a few of the 80+ college coaches on hand at the Lax Fest. He doesn't have great size, but the lefty more than makes up for it with his aggressive on-ball defense and tenacity. He passed a matchup with a high-level commit with flying colors. Piraino doesn't shy away from throwing bombs and he's a tough, scrappy kid who loves to mix it up.
2022 Honorable Mention
Connor Abrahall '22, attack, St. John The Baptist (N.Y.) / LI Express Demeo
Aidan Harrington '22, midfield, Freehold Township (N.J.) / Team 91 NJ South Rage
Gavin Herzog '22, midfield, East Islip (N.Y.) / East Coast Elite
Luke Lesizza '22, LSM, Fairfield Ludlowe (Conn.) / CT Wolves
Matt Nilan '22, goalie, Bayport-Blue Point (N.Y.) / United LI
Justin Robbert '22, attack, Centereach (N.Y.) / Middle Country
Ryan Trebing '22, attack, Smithtown West (N.Y.) / Rebels
Christian Smith '24, defense, Newfield (N.Y.) / Middle Country